This article is a stub, you can help the Sakura Taisen wiki by improving it!
(Stub templates just show off a wiki's flaws. Instead of using a stub template, make the page better!)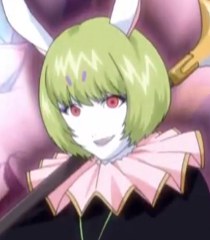 Ranmaru (蘭丸 Ranmaru) is a character from Sakura Taisen 4 voiced by Kiyomi Asai.
Appearance and Personality
Edit
This cruel and malicious rabbit-like person of unknown gender is a vassal of Oda Nobunaga.
In the games
Edit
This character reappears piloting enemy machines against New York Combat Revue's Star Division.
Other appearances
Edit
Project X Zone 2
Edit
Ranmaru is one of the enemy Sega characters in the crossover tactical-roleplaying game, Project ✕ Zone 2.