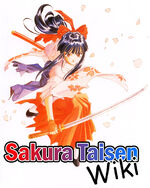 Sakura Taisen Wiki
a collaborative database that anyone can edit.

The Sakura Taisen Series

Main Games

Spin-offs

Novels and manga

Prequels and Side Stories

Compilations and Collections

Film and Television



Characters
Hanagumi (Flower Division)

Kazegumi (Wind Division)

Tsukigumi (Moon Division)

Yumegumi (Dream Division)

Baragumi (Rose Division)

Otomegumi (Maiden Division)

Council of Elders

Command & Support

Hanagumi (Flower Division)

Command & Support

Hoshigumi (Star Division)

Nijigumi (Rainbow Division)

Command & Support
Antagonists
Kuronosu-kai


Sakura Wars TV series

Sakura Wars The Movie

Sakura Wars 1

Sakura Wars 3

Sakura Wars Le Nouveau Paris

Sakura Wars 4

Black Demon Society


Sakura Wars 2

Sixth Heaven


Sakura Wars V - Episode 0

Sakura Wars 5

Sakura Wars OVA 5 New York NY

Dramatic Dungeon Sakura Taisen ~Kimi aru ga tame~
External Links
Affiliated Sites
News
Project X Zone 2 will released in the West in Fall 2015 and will also include Sakura Taisen characters Erica Fontaine and Ichiro Ogami.
Project X Zone will be released worldwide in June-August 2013. Project X Zone is a crossover game for the the 3DS and includes Sakura Taisen characters.
Contributing
Not sure where to start?
Improving articles
Article Stubs - These articles need some expansion.
Wanted Pages - These are articles that are redlinked throughout the wiki.
Adding content
Community
Check out the community portal to see what the community is working on, to give feedback or just to say hi.
The recent activity shows you what's happening on our wiki right now.
Sakura Taisen Official Twitter